No Bait?
No Throw Net?
No Problem!
By: Manuel Z
Updated August 01, 2001
I had an idea for a quickie baitfish trap when I saw a 3 litre bottle in the trash and here it is.

If you give this a try... Let me now if it works ha ha!
Here is a submission from BACKLASH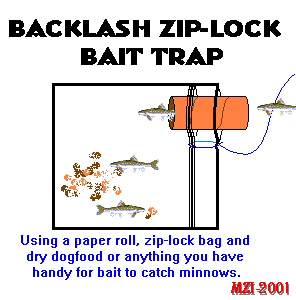 I was thinking this over and figured you can use a simple soda can with the top and bottom cut off if a paper roll is not available. Another note I may mention is that the Zip-Lock bag should be the large 1 gallon bag. Simply press the zip-lock till it's snug against the tube then poke a hole in the bag to tie the string so you can retrieve it later. You will have to fill the bag with water and bait before tossing or lowering it into the water, Add a couple of rocks or weights to help it sink. If no zip-lock bag is available try a potato chip bag.
Thanks BACKLASH! good idea!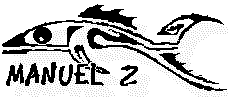 BACK ONE PAGE
TO MANUEL Z ON SURF FISHING
TO ALTERNATIVE FISHING METHODS