WORKING FISHER PRICE
PXL 2000 MODEL 3300
PIXELVISION B/W CAMERA
I bought this (used) PXL-200 (No accessories) several years ago out of curiosity. I figured out on my own how to connect it to a tv set. I didn't know how valuable they were till now. I never modified the case with RCA hookups, I went my own route and made a cord that can hook up directly to your CABLE READY TV or VCR. This unit has not been used in several years so it is sold AS IS, NO WARRANTY, NO REFUNDS Buy this unit as though it may need belts and/or cleaning. It was not stored out in the open. It was kept in a leather pouch. I just now tested it and it played as well as it did when I bought it.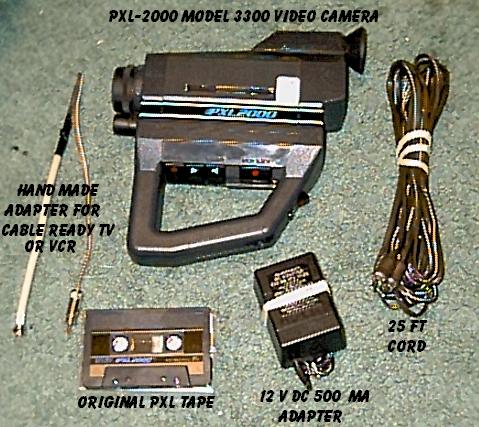 Original very clean FISHER PRICE PXL 2000 Model 3300 B/W Pixelvision Video Camera
Hand made adapter to connect to cable ready TV/VCR (Use female/female RCA adapter to connect to 25 ft cord for recording directly to VCR)
One 90 Minute ORIGINAL PXL-2000 TAPE(Actual record time on each side is 10 minutes) Contents: Man telling risque jokes, Fireworks display, Men playing baseball, Little girl on swing. OTHER SIDE: Little girl surprising her Dad with the camera then Dad saying NO DON'T RECORD ON THAT TAPE!!! Scene cuts to original Birthday party that was on the tape before.
12 v DC 500mA power supply with reversible tip I purchased myself.
25 ft RCA cord I purchased from stereo shop.
BONUS: Extra 25 foot hand made cord with RCA connector at PXL 2000 end and an Archer UHF/VHF IN/OUT plug for direct connect to Cable Ready VCR/TV (TV/VCR should be on channel 3 or 4 depending on how you have the PXL 2000 switched)
This PXL 2000 With all Accessories can be yours for $200.00 plus $15 S/H.
Note: Same item on ebay without accessories usually closes around $150.00
I will accept www.paypal.com to account manuelz@netzero.net
YOU MUST CONTACT ME AT ABOVE E-MAIL BEFORE SENDING PAYPAL PAYMENT!
(In case it has already been sold!)