SAIL LINE FISHING
NEW NEWS: I just found another website that stole my design and is "Trying to sell" Sail line rigs. DO NOT BUY IT you can build one for less than $50. If you need help e-mail me and I'll help!
Sail line fishing is simply enough, Setting out a sail attatched to a line of hooks running between the sail and the shoreline. There are many Fishermen who have been very successful at this method of fishing. Here are my simple tips on Sail line fishing, I'll try and keep it very simple and set you up with the basic information to get you started in this sport. Be sure to read and follow the State regulations listed below, Or find the regulations for Your state before attemting to Sail Line fish.
Simple rules to follow:
1) Make sure the wind is blowing towards the water, If not your sail wont go out!
2) Try and set up your sail line where there is Very Little Boat Traffic.
3) Bait your hooks with live, cut or artificial baits.
4) Use "Tacking" to adjust for wind direction.

TACKING:
Tacking is when you adjust where you clip your line to the chain on the rig so it sails off at an angle to the wind, If the wind is blowing straight out and you want your sail line to go to the left, Simply clip your line a bit to the left of the center line. to make it go right you clip to the right of the center line. This also works if the wind is blowing out at an angle if the wind is blowing over your left shoulder as you face the water, simply clip on your line to the left of the center line of the chain till it seems to be going out straight.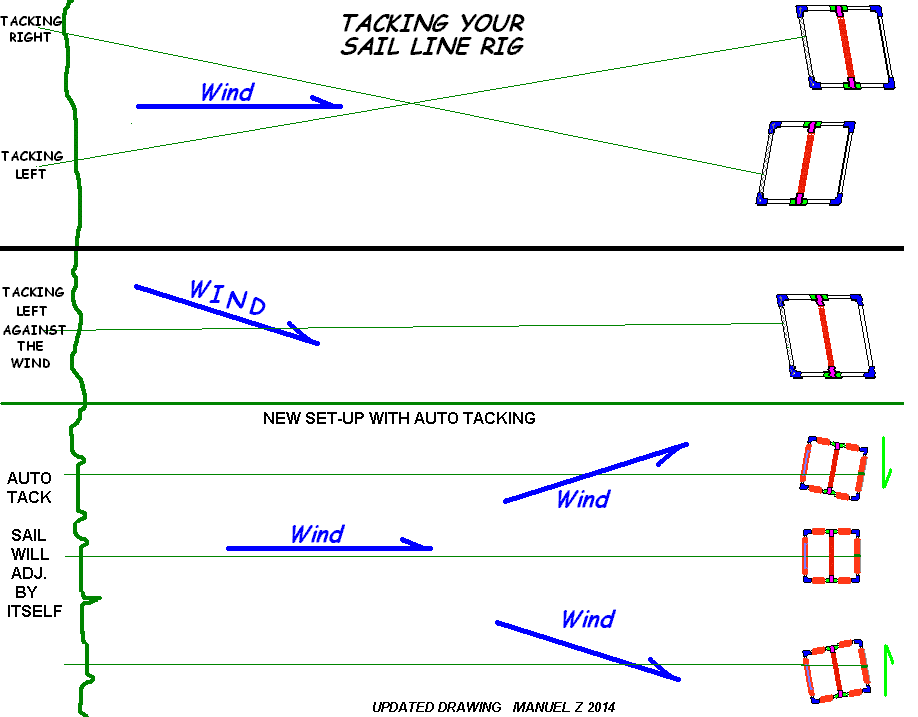 You can build a simple sail rig out of PVC PIPES and a few connectors you can buy at just about any hardware store. (Use 2" PVC for Bouyancy or use 1/2" PVC and add swim noodles as shown in the updated drawing) The sail can be made of anything, but your best bet for this is Ripstop Nylon (Kite Material) which you can get at a cloth store. Hopefully you know a seamstress who can sew it for you. If not, maybe the cloth store could recommend someone or you could get it done at a laundry/cleaners that does alterations. Heck, Use staples and Tape if you have to, You're a fisherman! No one said it had to be pretty. Here are some simple ideas for getting you started in building a SAIL LINE RIG. The pieces are actually all white, I color coded them so you could tell where each piece goes.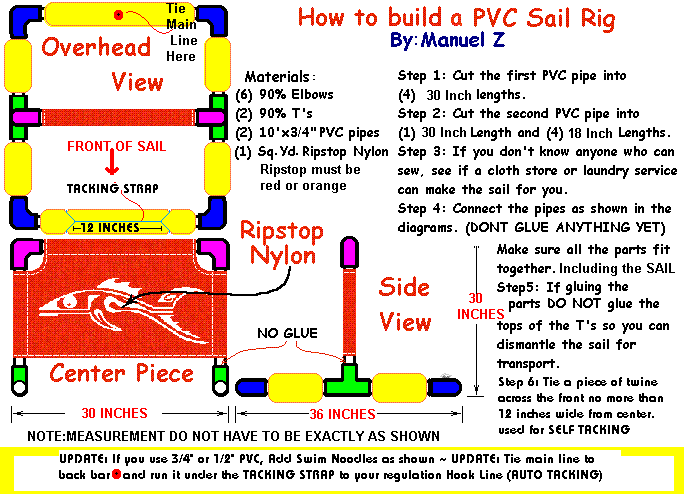 There are strict state regulations reguarding sail line fishing... You can build your rig using a regular catfish trotline. just make sure to only use 30 hooks. If your trotline has more than 30 hooks use some of the extras for your (Yellow/Red) floats or for weights. also make sure you follow the regulations. (They are different for night fishing) and Sail lines are for SALT WATER ONLY!!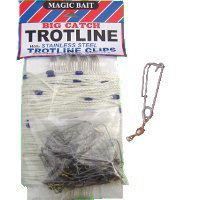 NO WIND? NO PROBLEM!
Here is a nice tip for using your sail line in an area where there is Current instead of wind, Use all the same methods as above except you would have the sail line rig upside down with the sail under water catching current instead of wind.

TEXAS SAIL LINE REGULATIONS

CHECK YOUR STATE REGULATIONS TO BE SURE!!!
Sail line - A type of trotline with one end of the main line fixed on the shore, the other end of the main line attached to a wind-powered floating device or sail.
Sail line. For use in salt water only.
Non-game fish, red drum, spotted seatrout, and sharks may be taken with a sail line.
Line length shall not exceed 1,800 feet from the reel to the sail.
The sail and most shoreward float must be a highly visible orange or red color.
No float on the line may be more than 200 feet from the sail.
A weight of not less than one ounce shall be attached to the line not less than four feet or more than six feet shoreward of the last shoreward float.
Reflectors of not less than two square inches shall be affixed to the sail and floats and shall be visible from all directions for sail lines operated from 30 minutes after sunset to 30 minutes before sunrise.
There is no hook spacing requirement for sail lines.
No more than one sail line may be used per fisherman.
Sail lines may not be used by the holder of a commercial fishing license.
Sail lines must be attended at all times the line is fishing.
Sail lines may not have more than 30 hooks and no hook may be placed more than 200 feet from the sail.