SAIL LINE FISHING


UPDATED AUGUST, 2014

NEW NEWS: I just found another website that stole my design and is "Trying to sell" Sail line rigs. DO NOT BUY IT you can build one for less than $50. If you need help e-mail me and I'll help!

Sail line fishing is simply enough, Setting out a sail attatched to a line of hooks running between the sail and the shoreline. There are many Fishermen who have been very successful at this method of fishing. Here are my simple tips on Sail line fishing, I'll try and keep it very simple and set you up with the basic information to get you started in this sport. Be sure to read and follow the State regulations listed below, Or find the regulations for Your state before attemting to Sail Line fish.

Simple rules to follow:

~~BE CONSIDERATE OF OTHER FISHERMEN~~

1) Make sure the wind is blowing towards the water, If not your sail wont go out!
2) Try and set up your sail line where there is Very Little Boat Traffic.
3) Bait your hooks with live, cut or artificial baits.
4) Use "Tacking" to adjust for wind direction.
5) Use "A Garden Hose Reel" to Let out and Reel in your sail..
6) Set your reel back far enough to be able to land fish on dry surface.


TACKING:


UPDATE 2014: The simple solution to "TACKING" Tie your main line to the BACK float, run it under the sail and over the front float. Where the chain was, change the chain to a simple piece of rope, twine. string etc. ((Narrower = Tighter tacking)) Your main line should move left and right freely underneath the Tacking Strap. What this does is make the sail tack automatically by itself. I have tested this and it works amazing! Not only does it tack automatically but it moves the bait(s) left and right covering a larger area.

Tacking is when you adjust where you clip your line to the chain on the rig so it sails off at an angle to the wind, If the wind is blowing straight out and you want your sail line to go to the left, Simply clip your line a bit to the left of the center line. to make it go right you clip to the right of the center line. This also works if the wind is blowing out at an angle if the wind is blowing over your left shoulder as you face the water, simply clip on your line to the left of the center line of the chain till it seems to be going out straight.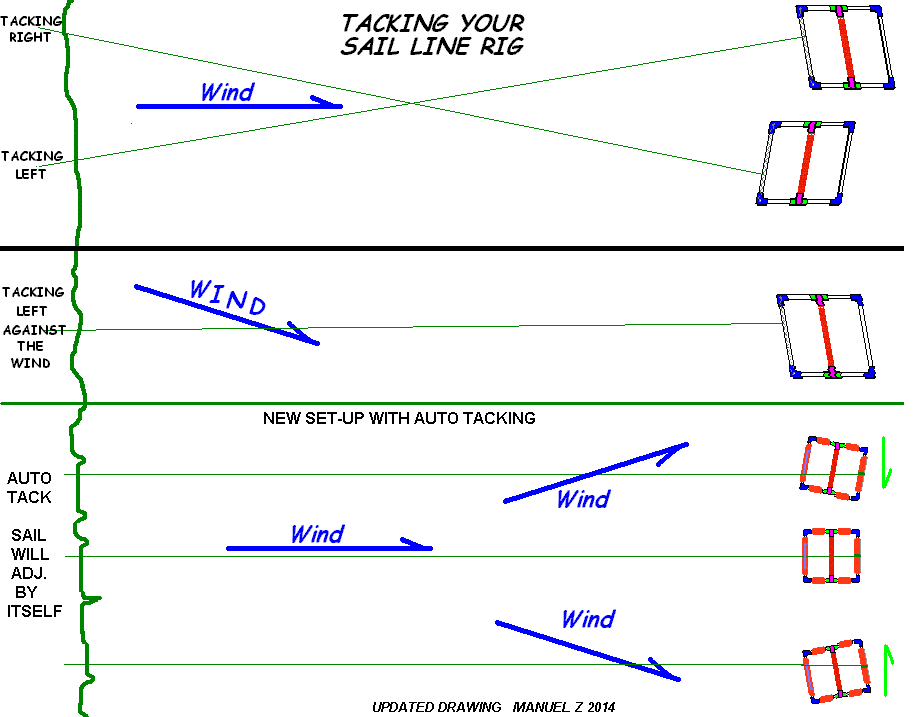 You can build a simple sail rig out of PVC PIPES and a few connectors you can buy at just about any hardware store. (Use 2" PVC for Bouyancy or use 1/2" PVC and add swim noodles as shown in the updated drawing) The sail can be made of anything, but your best bet for this is Ripstop Nylon (Kite Material) which you can get at a cloth store. Hopefully you know a seamstress who can sew it for you. If not, maybe the cloth store could recommend someone or you could get it done at a laundry/cleaners that does alterations. Heck, Use staples and Tape if you have to, You're a fisherman! No one said it had to be pretty. Here are some simple ideas for getting you started in building a SAIL LINE RIG. The pieces are actually all white, I color coded them so you could tell where each piece goes.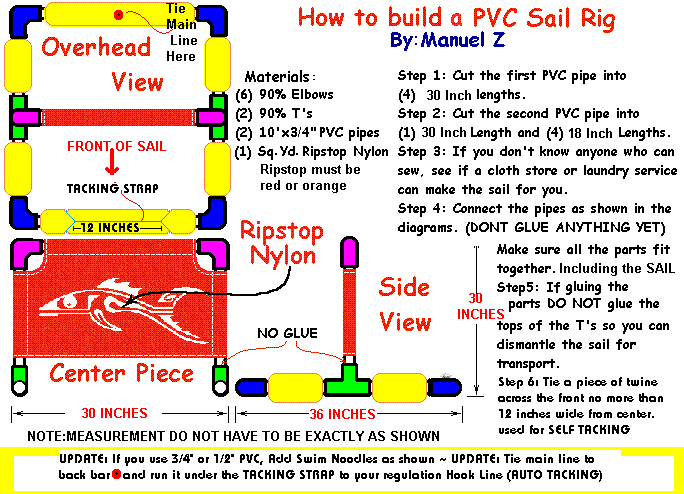 There are strict state regulations reguarding sail line fishing... You can build your rig using a regular catfish trotline. just make sure to only use 30 hooks. If your trotline has more than 30 hooks use some of the extras for your (Yellow/Red) floats or for weights. also make sure you follow the regulations. (They are different for night fishing) and Sail lines are for SALT WATER ONLY!!

NOTE: I DID NOT TOUCH ON "MAIN LINE" INFORMATION BUT, A 2 LB SPOOL OF 80 LB TEST LINE WILL COST ABOUT $30, I WOULD SUGGEST YOU NOT USE MORE THAN 1500 FEET OF LINE TO STAY WITHIN THE 1800 FT LENGTH LIMIT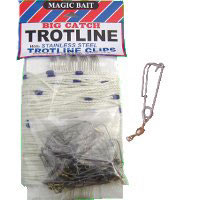 NO WIND? NO PROBLEM!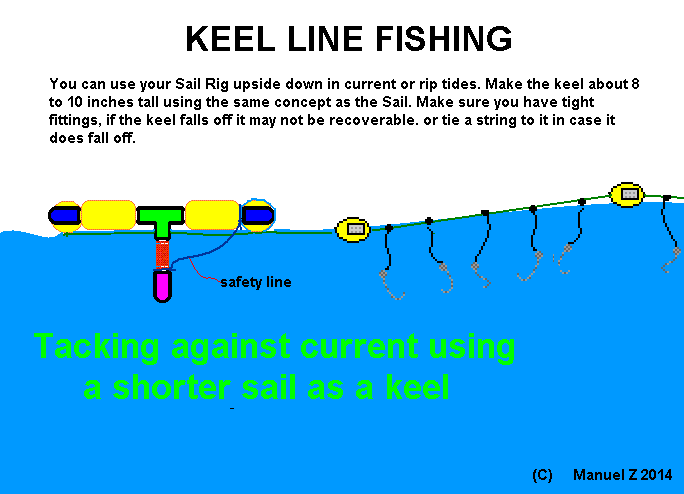 Here is a nice tip for using your sail line in an area where there is Current instead of wind, Use all the same methods as above except you would have the sail line rig upside down with the sail under water catching current instead of wind.

TEXAS SAIL LINE REGULATIONS

CHECK YOUR STATE REGULATIONS TO BE SURE!!!
For use in SALT WATER only. A type of trotline with one end of the main line fixed on the shore, the other end of the main line attached to a wind-powered floating device or sail.

Nongame fish, red drum, spotted seatrout and sharks may be taken with a sail line.
No more than 1 sail line may be used per fisherman.
The sail line must be attended at all times the line is fishing.
Sail lines may not be used by the holder of a commercial fishing license.
Sail lines may be used 7 days a week.

Tag Requirements:
Must have a valid Saltwater Trotline Tag for each 300 feet of mainline or fraction thereof being fished.

Construction and Design Restrictions
Sail line may not exceed 1,800 feet from reel to sail.
Sail and the most shoreward float must be bright orange or red color. All other floats must be yellow. No float may be more than 200 feet from the sail.
A weight of 1 ounce or more must be attached to the line not less than 4 feet or more than 6 feet shoreward of the most shoreward float.
Reflectors of not less than 2 square inches shall be attached to the sail and floats. They must be easily seen from all directions. This applies for sail lines operated from 30 minutes after sunset to 30 minutes before sunrise.
May have no more than 30 hooks.
There is no hook spacing requirement.
No hook may be placed more than 200 feet from the sail.
May be baited with either natural or artificial bait.

Placement and Location Restrictions
Must meet placement and location requirements for saltwater trotlines AS FOLLOWS:

Placement and Location Restrictions
May not be used in or on the waters of the Gulf of Mexico within the jurisdiction of this state.(NO OCEAN BEACH)
May not be placed closer than 50 feet from any other trotline, or set within 200 feet of the edge of the Intracoastal Waterway or its tributary channels.
May not be used in Aransas County in Little Bay and the water area of Aransas Bay within one-half mile of a line from Hail Point on the Lamar Peninsula, then direct to the eastern end of Goose Island, then along the southern shore of Goose Island, then along the causeway between Lamar Peninsula and Live Oak Peninsula, then along the eastern shoreline of the Live Oak Peninsula past the town of Fulton, past Nine-Mile Point, past the town of Rockport to a point at the east end of Talley Island, including that part of Copano Bay within 1,000 feet of the causeway between Lamar Peninsula and Live Oak Peninsula.
No trotline or trotline components (EXCEPT Sail Lines), including lines and hooks, but excluding poles, may be left in or on coastal waters between the hours of 1 p.m. on Friday through 1 p.m. on Sunday of each week, except that attended sail lines are excluded from the restrictions imposed by this clause. In the event small craft advisories or higher marine weather advisories issued by the National Weather Service are in place at 8 a.m. on Friday, trotlines may remain in the water until 6 p.m. on Friday. If small craft advisories are in place at 1 p.m. on Friday, trotlines may remain in the water until Saturday. When small craft advisories are lifted by 8 a.m. on Saturday, trotlines must be removed by 6 p.m. on Saturday. When small craft advisories or higher marine weather advisories are still in place at 1 p.m. on Saturday, trotlines may remain in the water through 1 p.m. on Sunday. It is a violation to tend, bait, or harvest fish or any other aquatic life from trotlines during the period that trotline removal requirements are suspended under this provision for adverse weather conditions. For purposes of enforcement, the geographic area customarily covered by marine weather advisories will be delineated by department policy.

Saltwater Trotline Tag Info: Type 307:$5

Required for each 300 feet, or fraction thereof, on all non-commercial trotlines and sail lines placed in the coastal waters of Texas. Available at TPWD Coastal Law Enforcement offices.